Presentation Notes
User Experience: Accessibility and Usability in Online Environment
Marsha Allen, Web Developer
Email:marsha.allen@coa.gatech.edu
Center for Assistive Technology & Environmental Access, Georgia Institute of Technology
Phone: 404-894-4960 (v/tty)
Fax: 404-894-9320
Web: www.catea.org
What will this session cover?
Identify the differences and integration of "accessibility" and "usability".
Describe practical solutions to barriers of online materials that enhance usability and access for all users.
Outline framework for performing site analysis and usability testing.
Presentation Handouts:
User Experience: Accessibility and Usability in Online Environment
www.catea.org/grade/training/
Note: Due to confidentiality, images and videos involving subjects for the usability study cannot be posted. In these instances, a text description is provided.
But first a word from our sponsors …
(CATEA) Georgia Tech Center for Assistive Technology and Environmental Access www.catea.org
Training, research, information, and technical assistance on disability-related issues and design.
National public AT website: assistivetech.net
Mobility Rehabilitation Engineering Research Center: mobilityrerc.catea.org/
Workplace Rehabilitation Engineering Research Center: workplacererc.org
(GRADE) Georgia Tech Research on Accessible Distance Education www.catea.org/grade/
Fact sheets & technical assistance
Accessible course models
Guidelines for accessible online materials
Accesselearning.net: 10 module online tutorial on making distance ed accessible
(ITTATC) Information Technology Technical Assistance and Training Center www.ittatc.org
Section 508 and 255 Information, Training, Technical Assistance
Toll free: 866-9ITTATC or 866-948-8282 (voice/tty)
ADA & Accessible Information Technology Centers
10 Regional U.S. Centers with current "key" initiatives:
Reasonable accommodation
K-12 Breaking Down Barriers
Post-secondary web accessibility evaluation & training
Contact Your Regional ADA & IT Center: 800-949-4232 (v/tty) www.adata.org
Internet and Computer… A Way of Life
158 million people globally and 79 million Americans
18% - 65+ years have access
29% - adults with disabilities online
47% - non-English speakers
Over age 50 - highest concentration & fastest growing segment of online buyers (7 in 10 over 40)
Disability and Computer Access
49% Internet changed lives (vs. 27% non-disabled).
Spend nearly 2x as many hours online and using email (vs. users without disabilities).
Over 50% computer owners report major reason for buying is educational applications.
Students with Disabilities in Higher Education
9% (1.3 million) college freshmen with disability; tripled over the last 20 years.
Source: American Council on Education, 2004
Disability first identified in postsecondary level:
31% Specific Learning Disabilities (SLD) Source: NCSPES, 2002
44% Attention Deficit Disorder (ADD) Source: NCD Disabilities & Postsecondary Ed, 2003
Aging and T.A.B. Population
Aging is really a continuum with more or less severe disabilities.
i.e. Most users over 45 have reduced vision and need resizable fonts, even if don't officially qualify as "low-vision users."
Temporarily able-bodied (TAB)
Anyone at anytime can acquire disability temporarily or permanently.
Disability Statistics
18-24 yrs. 7% of the population
25-34 yrs. 9% of the population
35-44 yrs. 15% of the population
45-54 yrs. 20% of the population
65-74 yrs. 37% of the population
75+ yrs. 59% of the population
Power of the Web
" … is in its universality. Access by everyone, regardless of disability, technology, or environment is an essential, integral aspect of life." Source: Tim Berners-Lee, W3C Director, Inventor of Web
Usability Exemplified …
Student holding a book to teacher: Dr Ting, Look at this! Orange type on a green cover?! It's totally garish! Plus it weighs half a ton! Do they really expect kids to lug this around?! And look at how thin the pages are! It's like a million paper cuts waiting to happen! This biology text-book needs more intelligent design!
Teacher: Just go sit down, Paige.
Student: What? Did I say something wrong? Source: Fox Trot Comic Strip by Bill Amend.
What is Usability?
Measure and design of a user experience that is: Effective, Efficient, and Satisfying.
Source: Understanding Web Accessibility, S. Henry
How do you know a web site is usable?
If and only if, users can:
Find what they need.
Understand what they find.
Act appropriately on that understanding.
- AND -
Do all above in time and effort they think is worth.
Source: Reddish, Creating Usable and Accessible Web Sites, 2005.
Sample Usability Concerns
Intuitive navigation.
Clear content.
Quick access to information.
Fast load times.
Prominent search mechanisms.
FLASH … Usability of Web Sites
60% users cannot find wanted info in a web site.
Source: User Interface Engineering, Inc.
"Best sites usable 42 percent of time, and none that we studied are usable a majority of the time …"
Source: Elizabeth Millard, researcher and journalist
50% web site sales lost as users cannot find info.
40% users do not return when first visit is negative.
Source: Forrester Research
62% web shoppers give up looking for wanted item.
Source: Zona Research.
What is Accessibility?
Anyone using:
Any kind of web browsing technology,
Must be able to visit a site,
Get full and complete understanding of the information contained there, and
Have full and complete ability to interact with the site.
Source: Starling Access Services, 2003
How do you know a web site is accessible?
Sample Accessibility Concerns
Text equivalents for all non-text content.
Color and contrast.
Distinct naming of links.
FLASH … Accessibility of Web Sites
56% users feel "lost" at least once
25-33% unable to complete basic web site tasks.
Over 50% orientation and navigation issues.
Poorly named links or unexpected destination.
Lack of defined structure and headings.
Poor color contrast.
No skip-navigation link.
40% issues cannot be "automatically" detected
Skip-Navigation Link
Permits users to skip repetitive navigation links and directly access the content.
Supports keyboard-only access and logical tab order to navigate information.
Specifically required by Section 508.
Example of a skip-nav link: www.catea.org/grade/legal/
Images
Alternative-text (alt-text) #1 solution
If alt-text provided, typically displays when a user places a pointing device, such as the mouse cursor, over an image.
Provide short, equivalent information by context
For example, the alt-text for the logo of the Federal Court Concepts module (www.catea.org/grade/legal) should be: "Federal Court Concepts."
Practice Exercise for Images

Select the best "alt-text" for sample image:
Mailbox
Letter entering mailbox
Mailing address
Answer: Choice #3 or #1 are best answers because these more inform the user about the context of the image in relation to its adjacent text.
No alt-text = no understanding
Without alt-text, the filename of image or embedded type of file is displayed
i.e. kwajex.gif or [inline][inline][inline][link][inline]
Color and Contrast
If the colors used in a site have poor contrast, it may be difficult to read for some users.
Use high contrast between text and background. Avoid distracting and watermark backgrounds
Read this text against a highly-colored psychedelic background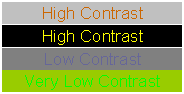 Color and Contrast
Convey information, especially the separation of content from navigation, with more than color.
Image map of U.S. regionally colored and numbered: original, blue/yellow and red/green color-blindness. Sources: Federal Court Concepts using Vischeck.com Color Blindness Tool


More Than Color
Use to highlight focus, increase aesthetic appeal, but ensure color alone is not required.
Bad: Information in red is required. Push the green button to start.
Good: *Required information in red with asterisk.
Table using color to show legal citation parts (www.catea.org/grade/legal/research.html)


Hearing is Seeing …
Screen readers
Get
Information
One
Word
At
A
Time
And By Viewing Links Or Headings In A Page.
Click here
Click here
Click here
Document
Here
Links: Distinct, Informative, Stand-Alone
Provide distinct link that cues reader and makes sense if read alone (list of links).
Identify file type and size if link to non-web item. i.e. My File (PDF, 30 KB).
Inform user if opening a new window.
Offer link to software needed for non-web items.
Separate adjacent links with printable, spaced characters to improve readability and target area.
Accessibility and Usability
Logical extension to include all people. Increased accessibility leads to greater usability.
Accessibility does not guarantee usability. Follow guidelines and still undermine usability.
Necessary to build both from the start.
Business Case for Web Access: Make/Save $$$
More people using your site; tap into affluent niches, i.e. Silver Surfers, PDA's, phones
Positive, free publicity. Socially responsible; standards compliance
More search engine friendly = higher rankings. Google is largest "blind user" on Web
Easier to manage. Separate content from presentation
Avoid potential litigation
Business Case for Web Access: Better Usability
What usable often required for access.
Font adjusts: convenient, varying screens, low vision
Keyboard shortcuts: productivity, users without mouse
Usability redesign: 100% increase sales/conversion.
Captioning helps language and learning.
Compatibility across technology versions and decreased download time.
More effective from start vs. scramble-fix.
Where to begin with usability testing?
"Misconceptions about usability's expense, the time it involves, and its creative impact prevent getting crucial user data, as does the erroneous belief that existing customer-feedback methods are a valid driver for interface design." Source: Jakob Nielsen, www.useit.com/alertbox/20030908.html
Framework for a Site Analysis
Determine site goals and success criteria.
Determine audience and how will use site.
Determine and organize information topics.
Analyze relevance of constraints; plan for resolution.
Considerations for Site Analysis
Know the audience and site goals before starting with a Site Analysis and review.
Modify goals, success criteria and information, based on constraints.
Familiarity and adherence to established web accessibility standards (at least minimum).
Quick Usability Review
What site is this?
What page am I on?
What are the major sections of this site?
What are my options at this level?
Where am I in the scheme of things?
How can I search?
Purpose of CATEA Web Usability Study (for assistivetech.net website)
Identify accessibility or usability barriers.
Determine if following web accessibility guidelines helps achieve greater web usability.
Determine if web accessibility and usability are ever in opposition.
Objectives of CATEA Web Usability Study
To determine whether users can:
Identify purpose of site.
Easily navigate to access information.
Describe site's organization.
Efficiently accomplish tasks.
Recall and utilize information encountered.
Target Population of CATEA Web Usability Study
Low vision / blind
Hard of hearing / deaf (use ASL)
Fine motor impairment
Over 65 years of age
Rehabilitation service provider
General population (no disability)
Assistive technology vendors
Framework of CATEA Web Usability Study
Hired local usability firm – User Insight.
Visited lab to ensure accessible and near public transportation.
Worked collaboratively with usability firm to design protocol.
Provided resources for recruiting participants.
Usability firm recruited, provided lab, and facilitated study.
More Details of CATEA Web Usability Study
Compensated participants - $50.
First study over 2 months, 25 participants.
Based upon results, made changes to site.
Repeat study 1 year later, 20 participants.
Tasks of CATEA Web Usability Study
Examine site home page and provide insights.
Explore site five minutes and share experience.
Find products using Vendor Search.
Find products using Keyword Search.
Find products using Product Type Search.
Find products using Function / Activity Search.
Find particular resources.
Use any search tool to find product of interest.
Find contact info and submit Site Usage Survey.
Environment of Web Usability Study
Room with single computer workstation
Observation by:

One-way window, two cameras focused: Computer screen, Participant
- OR -
Room with camera monitoring only.
Observation of Web Usability Study: One-way mirror, two cameras
Screenshot of what seen by observer of usability study on the computer monitor. The webpage being viewed by the user(home page for assistivetech.net) and in top right corner a picture-in-picture view of user.
Observation of Web Usability Study: One camera
Screenshot of what seen by observer of usability study on a computer monitor. A user participating in the the study is viewed from above, shows the left side of user's face, keyboard, and monitor.
Observation of Web Usability Study: One camera
Screenshot of what seen by observer of usability study on a computer monitor. The webpage and any actions taken by the user on the webpage (search for products using assistivetech.net).
Categorization of Results of CATEA Web Usability Study
Two column table listing 9 Categories and Descriptions for Results of Web Usability Study.
Design – Structure and way the site communicates.
Navigation – Use and clarity of site navigation.
Content – Presentation and substance of the content.
Terminology – Understanding terms used.
Point of View – User perspective and what the user expected.
Positive – Positive comments; features that were liked.
Observation – general observations.
Feedback – How the site responds after user's action.
Bug – System problem or failure.
Study Excerpt 1: Homepage Orientation
Participant using JAWS to view a Links List to orient to homepage.
Navigation redundancies.
Did not use "jump to content" link.
Did not access text on central part of page, which explained the purpose of site.
Study Excerpt 1: Solutions
Decreased redundancy of navigation.
Removed bottom navigation
Labeled "start"/"end" navigation and content.
Changed "jump to content" to "skip to page content" as better understood by screen readers.
Made "Search" and "Site Map" more prominent.
Made navigation a "list".
Before Testing: Redundant Site Navigation
Screenshot of assistivetech.net homepage with redundant navigation "hidden" in header and repeated at bottom of webpage .
After Testing: Expanded Site Navigation
Screenshot of assistivetech.net homepage with Expanded navigation – left navigation, and no breadcrumb, no "hidden" navigation in header and no navigation repeated in footer.
Text View of Expanded Site Navigation
Screenshot of text-view of assistivetech.net homepage with expanded navigation – notice the navigation displays as a list and the start/end wording for content and navigation.
Study Excerpt 2: Vendor Search
Respondent using JAWS to find product with the Vendor Search.
Began from Web Resources.
Looking for "vendor search".
Tried entering keyword into site search box.
Study Excerpt 2: Solutions
"Search" to "Search for Products".
Change from only top-level navigation to top-level and all sub-menus.
"Site Map" link made more prominent.
Put resource categories on another page.
Before Testing: Site Map
Screenshot of assistivetech.net site map before testing. Note: redundant left navigation present.
After Testing: Web Resources
Screenshot of assistivetech.net web resources page after testing.
Study Excerpt 3: Vendor Search
Respondent using JAWS goes to Site Map to find Vendor Search:
After few attempts, finds "by vendor search".
Hears instructions, to select first letter of vendor's name.
Gets locked in unending cycle due to design.
Study Excerpt 3: Solutions
Removed redundant left navigation from Site Map.
Use anchors to directly guide users to content or search results.
Recode so instructions only display before selecting a letter.
Collage below left-nav made "background" as only decorative, text unnecessary.
Removed duplicate instructions for search use.
Clarified the search process.
Breadcrumb problematic; no perfect solution.
After Testing: Site Map
Screenshot of assistivetech.net site map after testing.
After Testing: Vendor Search
Screenshot of assistivetech.net vendor search page after testing.
Research: Usability of college online applications
Users who are blind, visually impaired, reading or attention-related cognitive disabilities.
Preliminary results:
"Accessibility is a necessary, but not sufficient. Focus should be on site's usability for disabled users; emphasis on how well design helps accomplish typical tasks."

"The importance of usability as the most influential
factor in the success of users in accomplishing online tasks."
Source: Sharon Trerise, Accessible IT Coordinator, Northeast ADA & IT Center, Cornell University, www.northeastada.org
Research: Factors aiding ease of web use by users with disabilities
Over 200 web users with various disabilities.
Top three factors aiding ease of web use:
88%: Clarity of content using straightforward language and a clear, simple layout.
65%: Good navigation with the ability to know where you are within a site.
63%: Meaningful and clear hyperlinks.
Research: Usability Issues in Web for Disability
Three most important usability issues for disabled internet users:
Effective in-site search
Good navigation,
Clear, well-constructed content
Top 5 Most Useful Features in Web Site
Source: User Vision, user experience consultancy, www.usabilitynews.com/news/article2825.asp
More tips and features to increase usability:
Anchor next/previous links in courses to directly start at content to promote fluidity of material.
K.I.S.S. - Keep it simple and standard principle.
Test formats beyond the web for access and use: Word, Excel, PPT, PDF
For equations, formulas, and math/science/music notations, provide descriptive text indicating case and position of each part.
Source: Mechanical Engineering Course, www.catea.org/grade/mecheng/mehome.htm
Provide audio and transcript to supplement content.
Source: Mechanical Engineering Course, www.catea.org/grade/mecheng/mehome.htm
Writing for Web
Different than paper; each page independent.
Define acronyms and abbreviations.
Concise, "quick-to-read" chunks.
Hierarchical content organization.
Use standard fonts and sans-serif. i.e. Arial, Verdana, Tahoma
Provide alternate formats. Large print: minimum 18 pt.; preferred 22 pt.
Interface Design
Consistent, logical from page to page.
Use "expected" conventions.
Larger buttons and icons.
Avoid excessive use of graphics.
Last resort make a text-only page.
Ensure contrast between background and content.
Navigation Design
Avoid JavaScript or Flash for menus.
Give reasonable time and alert if timed.
Offer consistent, logical, ready-placement.
Provide accessibility and site features information.
Conclusions
Ensure that users with and without disabilities can easily use the web site, otherwise it will be likely fail.
Do iterative testing from first prototype.
Establish a clear, web usability and accessibility policy.
Usability is more than just following and validating to a set of accessibility guidelines.
Reach for Holy Grail: Universal Web Design
"The goal is universal design that's integrated and equal: Don't make disabled people use a different Web structure but make it so they can use it too."
Source: Dan Fruchterman, "Engineer's Focus: Accessible Technology for All"
Challenge To You …
Accessibility, usability, and aesthetics go hand in hand.
Think outside of the box.
Remember no pat "cookie-cutting" recipe or tools for ensuring success.
Questions and Comments?
Marsha Allen, Web Manager
Elizabeth Bryant, Project Director II
Robert Todd, Research Scientist II
Email: catea@coa.gatech.edu
Phone: 404-894-4960 (v/tty)
Phone: www.catea.org
Center for Assistive Technology & Environmental Access (CATEA)
Georgia Tech, College of Architecture
490 Tenth Street, Atlanta, Georgia 30318
Resources for Usability: