Becoming a Participating Institution
This FIPSE-funded project ended, and we are no longer seeking participating institutions. This page is maintained for archival purposes only.
However, we continue to offer access to the self-study tool. If interested please contact us.
Thank you for your interest in becoming a participating institution in the GOALS project. The following document provides additional information about the GOALS project, the Benchmarking & Planning tool, and what it means to be a participating institution.
About GOALS
Gaining Online Accessible Learning through Self-study (Project GOALS) is a nationwide initiative, funded by FIPSE, to improve web accessibility in higher education for students, faculty, and staff with disabilities. The current focus of work is to develop materials and processes useful for administrative personnel to make the decision and commitment to engage in system wide web accessibility. GOALS is a national consortium with members including web accessibility experts, regional education compacts, postsecondary systems, and a regional accreditor of colleges and universities.
One of the initiatives within the current GOALS funding is to secure participating institutions nationwide that will use the products and tools created under FIPSE funding, and provide feedback to the GOALS team. Central to this process is the Web Accessibility Benchmarking & Planning Tool. This web-based tool will help your institution engage in self-study of its performance on system-wide web accessibility efforts, and assist in creation of a plan for improvement. The GOALS tool uses a peer-reviewed, and validated, set of Recommended Practice Indicators for Institutional Web Accessibility as the foundation for guiding the institution's appointed team through a process of self-study via a series of questions. These questions are then used to create a snapshot of the institution's web accessibility.
The tool also assists the team in creating a customized action plan for improving institutional web accessibility.  Features in the tool include resources useful to create action plans, reports that can be automatically generated, and mechanisms to allow institutions to compare results (e.g., of their current cycle of assessment with previous cycles and, over time, to peer institutions based on IPEDs categories). This tool offers a variety of features that help a team collaborate in the manner that best suits their needs, including the ability to send email messages to team members within the tool and receive regular status updates.
Finally, several templates are in development to aide the work of an institution toward solving common dilemmas (e.g., gaining support from other groups; planning for training across faculty and staff).  As these are developed, participating institutions will have opportunities to decide to use them and provide GOALS with feedback on their utility, or alternatively recommend the development of additional templates for use within the GOALS system.
What you can expect if you become a GOALS participating institution: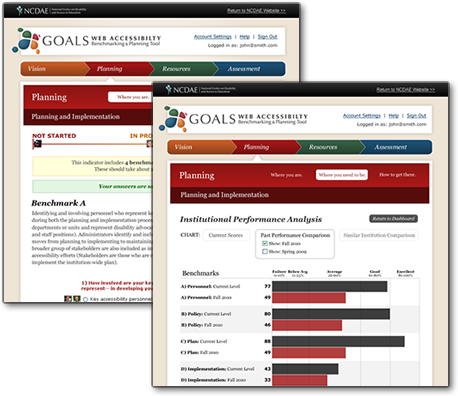 Free access to all the tools, resources, and supports of the GOALS project; including a free premium account in the GOALS Benchmarking & Planning tool, currently in beta (additional features, enhancements, and fixes will be added from time to time). The premium account provides access to several valuable features, including:

The ability to save review cycles, allowing you to measure your progress over time.
The ability to compare your current cycle with past review cycles. In the future, you will be able to compare yourself to similar institutions as well.
Separate accounts for multiple team members, allowing you to collaborate asynchronously and at a distance.
An administrative report that is automatically generated and ready for simple edits.  This administrative report will contain an executive summary and main report of the institutional benchmarking and proposed action plan.  It is suitable to deliver to CIO's, Provosts, and Presidents, thus reducing the effort required to construct a report from scratch.

Support from GOALS staff as you use these tools to improve web accessibility throughout the institution. We can help you get started by providing a very brief accessibility report of a few common, high-profile web pages from your site.
Resources to guide you through your efforts, including documents to help you gain support throughout your institution, templates for policy creation, cheat sheets to aid in training, and others.
An email-based discussion forum that will allow you to share your experiences with other participating institutions.
Materials to document quality improvements to your regional accreditor within a cycle of reaffirmation.
What we ask of you:
We ask all participating institutions to do three things: Use the tool to benchmark and create an action plan; Provide us with feedback; and Interact with our external evaluator on an annual basis.  The following list details important specifics:
Ensure that you have the proper permission to represent your institution.
Identify and invite individuals that will serve on the self-study team. This team should include individuals who know the most about current web accessibility efforts at your institution as well as representatives from important stakeholder groups.  Examples are individuals from your Disability Resource Center (e.g.  Section 504 and ADA compliance), web developers, Human Resources, Information Technology, individual(s) with disabilities, a faculty member, and a staff member. While the size of your team may vary, we recommend working with a group of six to ten individuals.
Identify the team leader. This person oversees the entire process. They encourage participation within the team, make the final institutional response given team input, facilitate completion of the Action Plan, and make edits to the Administrative Report.
Complete at least one review cycle in the Benchmarking & Planning Tool. Depending on your institution's current state of accessibility, it may not be necessary to answer all the self-study questions.
As part of this review cycle, create an Action Plan using the tool features to identify a concrete improvement plan (i.e., with outcomes statements, personnel responsible for actions, and target dates).
Work toward implementing your Action Plan as it is specified.
If appropriate, use templates and resources that are provided (e.g., to create a proposal for institution-wide accessibility, a web accessibility policy, or plans for training).
Provide feedback and suggestions for improvement, or additional supports, to GOALS project members. We will use this information to improve and develop materials and resources better aligned to the needs of institutions like yours.
Respond to questionnaires and inquiries from our external evaluator (Worldwide Institute for Research and Evaluation; WIRE) on an annual basis.
We anticipate that self-study team members should spend no more than ten hours each completing the process (i.e., using the Benchmarking and Planning Tool) and an additional hour or less responding to inquiries from GOALS staff and our external evaluators. The responsibilities of the team leader will probably require a few hours of additional time in their role as overseer and facilitator.
Again, thank you for your interest in becoming a participating institution. We are confident that the GOALS resources can help your institution improve system-wide web accessibility.  We are hopeful you might consider becoming a part of this important project.