NCDAE Accessibility Newsletter - October 2005
In this Edition:
Featured Article
Breeze is a Web communications system created by Macromedia. It has two main components: Breeze Meeting and Breeze Presenter. Breeze Meeting can deliver live communication with synchronized audio and video, as well as text chat. Other features include the transfer and sharing of files, display of power point presentations, collaborative whiteboard, quizzes, polls, surveys, application sharing, and online content storage. Breeze Presenter uses a PowerPoint plug-in to allow users to create a standalone presentation for the web, including slides, audio, and
quizzing features.
NCDAE has created a fact sheet that designed to help you understand the accessibility features and challenges of these two communication tools. We hope that you will not only read this fact sheet, but add your comments and experiences so we can continually expand this resource.
For more information visit http://ncdae.org/tools/factsheets/breeze.php
NCDAE Webcasts
Upcoming Webcast – November 30, 2005
Student Information Systems and Students with Disabilities
Date: November 30, 2005
Time: 1:00 p.m. MT
Length: 60 minutes
Moderator: Marty Blair, Policy Director, NCDAE
Panelists participating in the Webcast are:
Ron Stewart, Tech Access Program: Oregon State University (Ron Stewart is this month's Affiliate Highlight)
Skip Knox, Boise State University
Alice Anderson, Division of Information Technology, University of Wisconsin -Madison
The following are samples of topics to be discussed by the panelists:
Accessibility ratings of current student information systems.
The balance between accessibility and usability of these systems
How accessibility and usability can be improved by the vendors and by the institutions.
Reconciling the wide-range of needs presented by students, faculty, and staff with disabilities with the needs of the typical users.
Listeners are invited to submit questions to the panel via email for discussion during the event. For more information or to listen to the Webcast visit: http://ncdae.org/webcasts/
September's Webcast – September 14, 2005
Electronic Accessibility in Library and Information Services
The Webcast on September 14, 2005, entitled Electronic Accessibility in Library and Information Services, discussed the state of electronic accessibility to libraries that are used in distance education. The panel discussed multiple problems faced by university Library and Information Services, including accessibility of scanned documents, policy, procurement, and increasing awareness. To access webcast documents, listen to the archive, or read the transcript of this webcast visit http://www.ncdae.org/webcasts/library.php
Factoid
According to the research commissioned by Blackboard Inc. and conducted by Zogby International, the number of active online learning users has grown by a factor of ten in just three years and the number of course offerings has quintupled. Additionally, in spring 2003, there were 225,716 courses conducted via Blackboard (as analyzed in this data sample); as of the current academic term, that number had increased five-fold, with 1.2 million course offerings.
The press release and additional findings regarding this study are available at
http://www.marketwire.com/mw/release_html_b1?release_id=96549
NCDAE Upcoming Events
NCTI/AccessIT/NCDAE Policy Discussion
NCDAE is hosting a 3-hour national discussion on disability policy and electronically-mediated education. The featured speaker will be Carol Leffler, Lead Accessible Technologies Specialist, at Community Consolidated School District 54 in Schaumburg, Illinois. She will discuss her district's efforts to develop an inclusive, district-wide technology plan for all students. The second half of the event will be a national discussion on how disability concerns and assistive technologies could be better integrated into local, state and federal education technology plans and policies. The result will be a technical assistance brief disseminated to our colleagues nationwide.
Lunch will be provided to registered participants. The event will be held Friday, November 18, 2005, at 12:30 to 3:30 PM (immediately following the NCTI Technology Innovators Conference, www.nationaltechcenter.org/default.asp) at the Madison Hotel in Washington, DC. Register for the discussion meeting at http://ncdae.org/activities/meetingregistration.php
World Usability Day
November 3, 2005 is World Usability Day - http://www.worldusabilityday.org, an event sponsored by the Usability Professional's Association to spread the word about making products and services easier to use.
We are very pleased to announce that Jared Smith of NCDAE and WebAIM will be presenting on Accessible JavaScript in the World Usability Day's Accessibility Channel - a 24-hour global conversation about accessibility and usability: http://www.inclusive.com/WUD_access.
NCDAE Affiliate Corner
Affiliate Highlight - Ron Stewart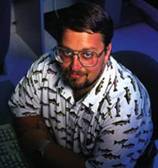 I am the founding president of ATHEN, and at my day job, the Director of the Technology Access Program and the Northwest Center for Technology Access at Oregon State University (OSU). I have been involved in educational technology in one form or another for most of my career, and nine years ago was reintroduced to the field of what has become Access Technology (AT). My reintroduction was the result of agreeing to help OSU develop a plan and program to provide access to its technological systems for persons with disabilities. Little did I know that that decision would take my career and my life's work down a wonderful and challenging path. Our experiences at OSU have served to inform the field in a positive way, and have been replicated in a variety of forms on other campuses.
In my work over these years, and through dialog with my peers, a commonness of drive, identity and purpose have surfaced. We all seem to have a similar story, and all are highly dedicated to their work and the people they work with. Our paths into AT are as varied as we are, but a shared vision is developing. ATHEN is a logical outgrowth of this shared consciousness and the unmet need for validation of the professional contribution we each make to our various campuses and service organizations.
Affiliate News
NCDAE affiliate EASI (Equal Access to Software and Information) is presenting a series of workshops on how to design accessible PDF documents. These interactive, online conferences will feature Karen McCall, who has written an excellent book on accessible PDF and who frequently travels to give workshops on the topic.
You can read about and register for a free overview session to be held October 20 at http://easi.cc/forms/oct20.htm or register for the four-part, detailed training at http://easi.cc/forms/pdf-series.htm
In the News...
Captcha Conundrum
According to Wikipedia (http://en.wikipedia.org/wiki/Captcha):
A captcha (an acronym for "Completely Automated Public Turing test to tell Computers and Humans Apart") is a type of challenge-response test used in computing to determine whether or not the user is human. A common type of captcha requires that the user type the letters of a distorted and/or obscured sequence of letters or digits that appears on the screen. Because the test is administered by a computer, in contrast to the standard Turing test that is administered by a human, a captcha is sometimes described as a reverse Turing test.
Captchas are used to prevent spammers and other scam artists from creating a program that signs up for multiple accounts or phishes for passwords by adding a step that requires a person to identify a picture or a word that is distorted so that it can't be read by a program but can still be recognized by a human. However, captchas have recently come under fire for their lack of accessibility for users who are blind or visually impaired. The following are four articles and blog entries that were featured in the NCDAE – Accessibility in the News RSS Feed that discuss the problem or offer solutions:
AOL Gets It Right, Sort Of.
http://www.accessibilityblog.com/2005/09/07/aol-gets-it-right-sort-of/
Disaster Aid For Windows Users Only?
http://webstandards.org/buzz/archive/2005_09.html#a000563
Inaccessibility of Visually-Oriented Anti-Robot Tests
http://www.w3.org/TR/turingtest/
Quiz 1.1.5: Did a CAPTCHA Catch Ya?
http://www.access-matters.com/2005/05/22/quiz-115-did-a-captcha-catch-ya/
From Access Matters
More on the CAPTCHA accessibility issue at Oops: Google Did It Again and at Google Accessibility Issue.
---
Copyright (c) 1998-2005 NCDAE. All rights reserved.
Terms of use: All contained material may be reproduced and distributed in print or electronic format only if offered at no cost to recipients and as long as full credit is given to NCDAE, including a link to the NCDAE Web site, and as long as this Terms of Use notice remains intact.